Our Plantation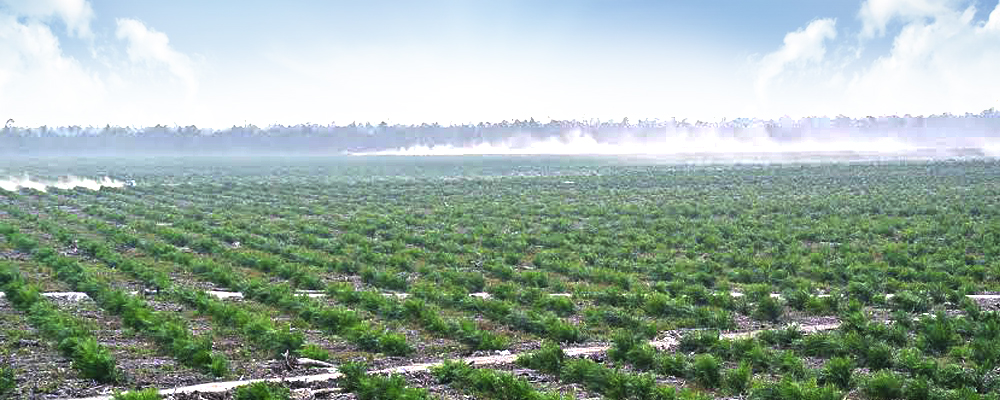 The plantation land owned by Golden Agro Plantation (Mukah) Berhad is held under Lot No.3, Block/Section No.2, Baoh Land District, Mukan Division, Sarawak (GPS Coordinates), and measures approximately 5,098 hectares (or 12,587 acres). The land is surrounded by several mature oil palm plantations that are owned and managed by subsidiaries of large, listed corporations including Tradewinds Plantation Berhad and WTK Group.
How it all began…
We had a very unique opportunity when we were first presented with the parcel of land as it was completely undeveloped at the time – thereby granting us the opportunity to design the entire estate from scratch. Under the leadership and guidance from Dato' Allan, as well as the operational experience and know-how by the management team, our estate was soon mapped out in its entirety. The plantation is designed to allow for maximum efficiency when our operations took place. For example, our field roads and planting rows are shorter than usual in order to ensure that all fruits are harvested easily. The harvesters' paths designed to be slightly wider than industry norms to allow for mechanization in the future. As the layout of the estate cannot be easily changed once development has started, it was imperative that the initial design of the plantation was done properly.
The actual clearing of the land began on August 2011. Development progress was rapid and after a period of just 3 months, not only had we established our first nursery, but also our site office that we are still using today in the Northern Triangle portion of our estate. We were ordering seeds in batches of 25,000 from certified suppliers such as the Sime Darby, IOI and KLK Groups that were being delivered weekly to our nursery. After spending 12 months in the nursery, the young palms were then planted into the field. Our commemorative first field planting took place on 8/8/2012 and was personally planted by Dato' Allan himself. By December 2013, the entire Northern region of the estate was fully planted. As of today, development and planting progress in the Southern region of the estate is still ongoing at a rapid pace.
Our Vision
We at Golden Agro have a very simple mission statement – To develop and operate the best Oil Palm Plantation that we can, and to deliver the very best to all our stakeholders. Despite the fact that we are a new company, we have lofty ambitions for our plantation. With our strong management team as well as our steadfast adherence to best organizational and agricultural practices, we are confident that our plantation will soon be amongst the best run in Malaysia.
Our Key Five Values
Maximize Fresh-Fruit-Bunch (FFB) Yield Per Hectare
Minimize Unnecessary Costs and Wastages
Maximize Efficiency of Labour
Minimize Adverse Environmental Impact
Maximize Stakeholder Satisfaction
Facilities
In our plantation, we have all the necessary facilities that are required for the smooth running of an estate of our size. These include:
A site office of 3,360 sq ft that houses the administration for the entire plantation
A workshop for the maintenance of our vehicles and machinery
A warehouse that stores all the fertilizer
A store of pesticides and herbicides
A comprehensive gen-set system
Adequate housing for our workers and their families
We also have a large fleet of vehicles and heavy machinery that is required for operations. These include:
Morocars
Farm tractors
Excavators
Dump trucks
Lorry
4WD vehicles

Pre Nursery / Nursery
The first year of a palms' life cycle plays an extremely important role in ensuring the proper development of a healthy palm. A nursery is therefore required so that the young palms are given the constant close attention that they require in the first 12 months of their development. At our estate, we employ a two-stage nursery in our estate. This means that the seeds are first planted into a bed of trays and remain in the pre-nursery for the first three months. In the pre-nursery, the young seedlings are provided with a constant water supply and an ample amount of fertilizer. Shade is also provided to shelter the seedlings from intense sunlight.
After three months, the seedlings are then transplanted into polybags and are brought tothe main nursery, where they will remain for another nine months. This gives the seedlings time to develop further under close supervision. This way, any potential occurrences of nutrient imbalances or pest problems can be quickly identified and corrected. The culling of weaker or abnormal seedlings is also done at this stage to ensure that no abnormal palms are planted to the field as they will provide zero/suboptimal harvests. After the nine months, the palms are robust enough to be finally planted into the field.
Visit Our Plantation Today at Mukah, Sarawak
Opportunities are available for those who wish to visit our estate!
The package includes return flight tickets from KL to Sibu, airport transfer from Sibu to Mukah, hotel accomodation and F&B. 
Dates of Plantation Visit
April 7-8, 2015
July 7-8, 2015
October 6-7, 2015
Limited seats per trip. Contact us to find out more information and register.